Restaurant Colombet
Nyons – Drôme Provençale
Local products
Welcome to the Restaurant Colombet, where local products, skilfully prepared and beautifully presented on your plate, will make you rediscover with pleasure the flavors of the Drôme Provençale.
The Hotel cuisine reflects the flavours of the region. Offering great variety, using regional ingredients, the dishes are appreciated as much by the local residents as by foreign visitors.
Here is the Provence of sunlight, where summer and winter seem to mirror each other – where painters come in search of its unique light.
Here is Nyons, in the land of the olive tree and the warm breeze, a medieval city full of charm in a magnificent setting of olive trees, vineyards and lavender fields.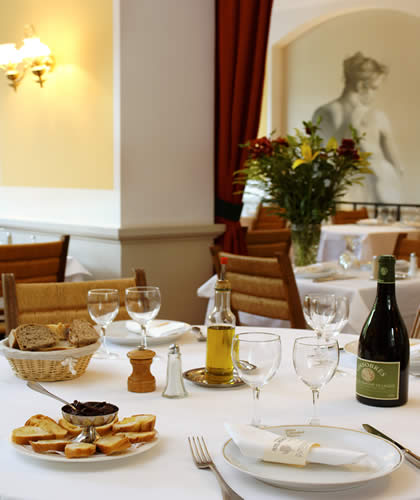 A gourmet restaurant in Nyons
It is with pleasure that we welcome you to the Colombet Restaurant in Nyons. You can enjoy refined and gourmet dishes, in our beautiful building of the nineteenth century.
Our entire team is at your disposal and wishes you a wonderful meal…